Chiang Rai
is located in Northern
Thailand
at a distance of almost 200 kilometres from
Chiang Mai
and 800 kilometres from the capital city of
Bangkok
. Being a Thai town, it definitely offers a rich collection of natural scenic beauties to be explored in the sun. But the nightlife in Chiang Rai is what most tourists are after. Once the sun goes down, Chiang Rai wakes up, and the real charm of the town can be felt.
The major attractions and hotspots which are a part of nightlife in Chiang Rai include bars and restaurants, massage parlours and the shopping streets. However, Chiang Rai being impartial to its visitors also offers some offbeat experiences as well for some memorable nights.
The Bars and Restaurants of Chiang Rai
Chiang Rai is packed with varieties of Bars and Cafes, ranging from neat family bars to Go-Go bars. Around the town's centre, you will be amazed to see a bar at every step on the main road on either side. Some of the famous and must visit bars of Chiang Rai are listed below:
1. Bar Lamyai – The Affordable Bar
Serving beers and vodka at the most affordable prices in the entire town of Chiang Rai, this bar is located just 50 meters away from the Clock Tower towards the south. The comfy setup of the bar with wooden seats provides the perfect ambience to hangout place friends. Free WiFi is also offered, and there is a pool to enjoy one's drink in. A big TV screen which majorly plays the news and sports channel will entertain you in the middle of your conservations.
Timings: 03:00 PM till midnight 12:00 AM
Location: 50 meters south of Clock tower on Jetyod Road
Cost: Affordable (100* THB per glass of beer)
2. Cat Bar – The Jamming Bar
The Cat Bar right in the centre of the town is owned and run by a Thai couple. It offers the most soothing nightlife experience. The husband and wife duo serve up a variety of drinks. Drinks and pool games go hand in hand and here one can play pool for free. Live music sessions held every night at this bar are what attracts customers the most. Majority of the time, one will find the husband jamming the floor with his guitar. The stage at the Cat bar also welcomes all its guests to showcase their talent.
Timings: 02:00 PM – 01:00 AM
Location: Jetyod Road
Cost: Affordable (150* THB per glass of beer)
3. Coconut's Bar – A Bar with International Vibes
Another cosy pub along the Jetyod Road in Chiang Rai is the Coconut's bar. The speciality of this bar lies in its food menu. A packed, festive interior of the bar with a big TV screen lets you watch live sports while enjoying the best drinks with your friends on the round tables. Pool and other indoor games here can be enjoyed here. The menu reads out a variety of beers, whiskeys, wines and colourful cocktails and some super delicious international cuisines ranging from English to Greek and even Mexican.
Timings: 07:00 PM – 01:00 AM
Location: Off the Jetyod Road
Cost: Affordable
4. Turntable Jazz Bar - A Destination for Jazz Lovers
The Turntable Jazz bar caters to all the jazz lovers. An in – house bar of the North Hotels in Chiang Rai, here one can flow along to the soothing soft jazz notes of old times. They have a vast collection of records of famous old jazz albums starting from the 60s, which will satisfy your hunger for Jazz. They also maintain a shelf full of books on Jazz. One may turn to those yellow pages on jazz while sipping your favourite drink. The drinks offered here are local beer and traditional wines.
Timings: As per hotel timings
Location: East of the Night Bazaar
Cost: Affordable
5. Leelavadee - The Riverside Bar 
Built along the banks of river Mae Kok, this riverside bar is indeed a luxury hotspot in the middle of the old town of Chiang Rai. This bar serves you the local beer, a rich collection of mature wines and a worldly combination of cocktails. One can enjoy their favourite drinks while bathing in the serenity of the flowing waters and listening to live pop music. Live performances also usually include some of Chiang Rai's local traditional acts singing folk songs and performing their traditional dances.
Timings: 07:00 PM – midnight
Location: Kwae Road
Cost: Moderately expensive
6. Open Air Beer Garden – Cheers to the Stars
The Open Air Beer garden is an open lounge in the middle of the Night Bazaar of Chiang Rai. At first glance, it looks like a mini food-fair with numerous food stalls and minibars that offer mouth-watering delicacies. Thai pads, fried vegetables, hot pots, and some delicacies of fried bugs are some of the steaming hot dishes one might wish to taste. Generally, when tourists get exhausted from shopping, they spend some relaxing time in this garden gorging on great food with a view of a starry night.
Timings: 07:00 PM – 11:00 PM
Location: In the Night bazaar (Walking Street)
Cost: Free Entry. Affordable price food and drinks 
Shopping in Chiang Rai
The shopping markets in Chiang Rai are not as fancy or huge as the markets of Bangkok or Chiang Mai. But these night markets still add to the charm of the nightlife in Chiang Rai. A vast range of traditional handicrafts and souvenirs are offered at comparatively lower prices than the city markets.
7. The Night Bazaar – The Walking Street of Chiang Rai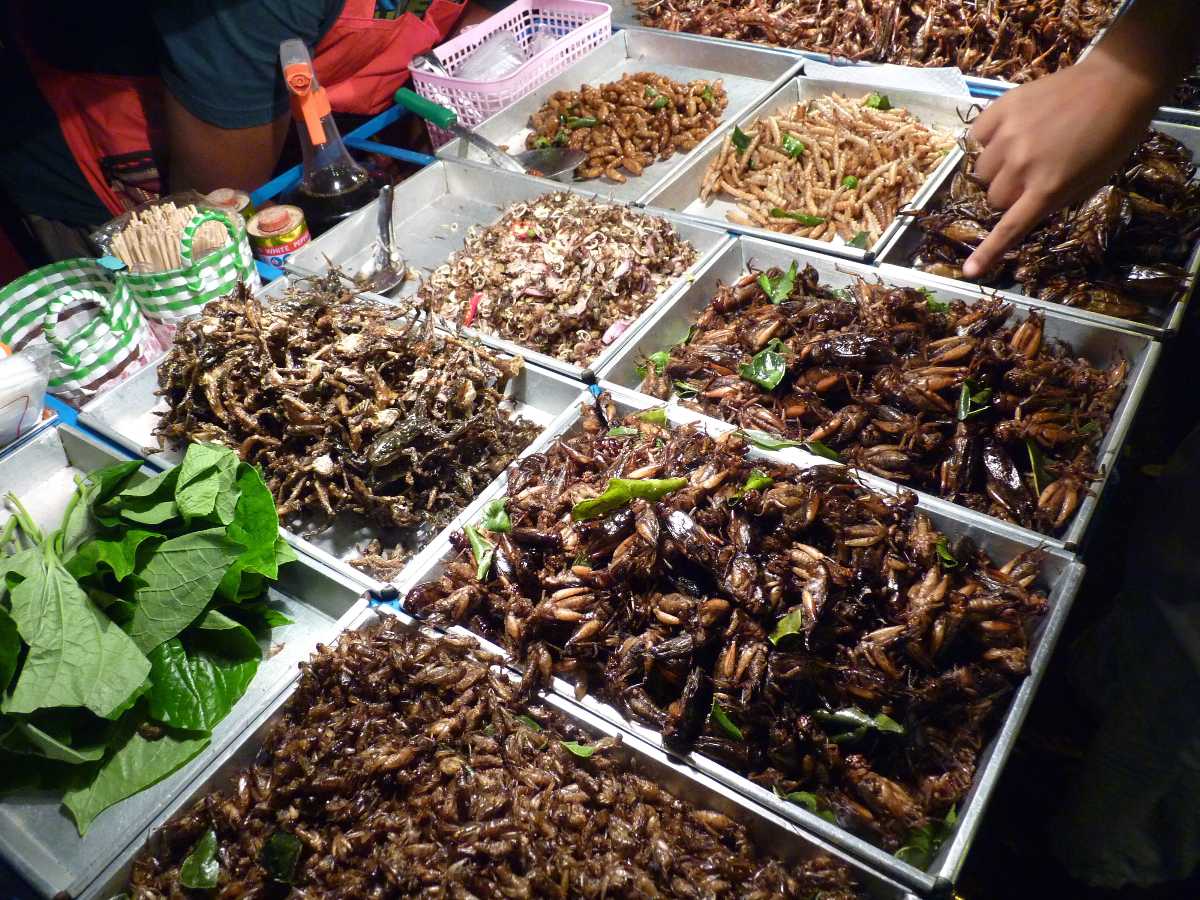 Every night the streets of Chiang Rai get crowded with local Thai vendors and the Night Bazaar is one shopping hotspot. The market is flooded with compact stalls selling age-old tribal craftworks and traditional handicrafts, knitted scarves, embroidered bags, silver jewellery, t-shirts, sneakers and much more. Almost all of the vendors are families selling various products, and they can charge absurdly high prices. So it is recommended to bargain to at least half the price for any product one wishes to purchase.
Apart from shopping, the major attraction of the Night Bazaar is the live cultural performances of the music and dances performed by local Thai people.
Timings: 06:00 PM – Midnight
Location: South East of the Clock Tower
Cost: Affordable prices. Bargaining is recommended
8. The Weekend Market – The Happy Street of Chiang Rai
Every Saturday and Sunday, Chiang Rai hosts a weekend market at different places on both the days to sell clothing, groceries, delicious Thai foods, lots of fun and entertainment. The Saturday market which is 1.5 kilometres long is set up at the Thanalai Road whereas the Sunday market, also known as Happy Street is set up on Sang Khon Noi Street of Chiang Rai. Both these markets are a larger version of the everyday
Night Bazaar
. The main goals of these markets are food and shopping and these are mainly populated with the local Thai people who set out to enjoy their weekend with family and friends. If you happen to be in Chiang Rai on weekends, then do not forget to pay a visit to this Weekend Markets.
Timings: 05:00 PM – 11:00 PM
Location: Saturday market - Thanalai road, South to the Clock Tower                
                Sunday market - Sang Khon Noi Road
Sightseeing in Chiang Rai
A beautiful town in the lap of hills, home to colourful temples like White Temple, Black Temple, Blue Temple, etc. the nightlife in Chiang comprises of some quick sightseeing too.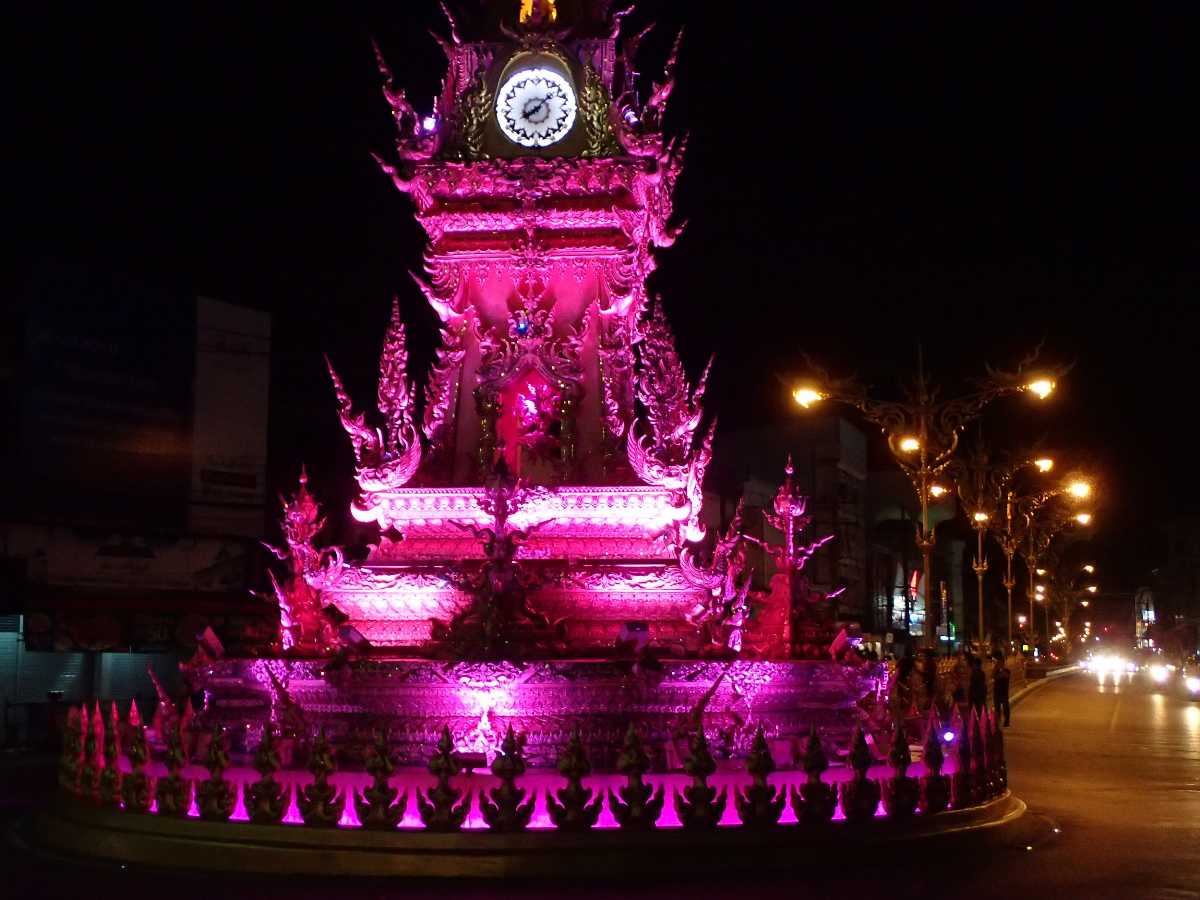 It is a race to get a prime viewing spot in front of the Clock Tower as soon as the clock strikes 7 or 8 or 9 PM. At these hours, when the last rays of the sun have left the city, the shining golden clock tower is all set to flaunt its vibrant colours to the beat of energetic music. During this enthralling light show, one can witness the tower beautifully changing its colour from pink to green to further various colours. The centre of the town was designed by the Thai artist Chalermchai Kositpipat, the one who designed the famous White Temple of Chiang Rai.
Time: 07:00 PM, 08:00 PM, 09:00 PM
Location: The Clock Tower
Cost: Free
Relaxing in Chiang Rai
Thailand is famous for its traditional Thai spas. So it definitely makes sense to rush into those aromatic massage parlours at night and treat oneself to a much-needed massage after a long day of sightseeing.
There are plenty of Massage parlours along the Jetyod Road that offer pain – relieving comfort massages. As per one's taste, one can opt for foot massages, head massage, or a full body massage.
10. Arisara Thai Massage
An original Thai massage that not only relaxes one but also helps in curing many ailments like asthma, migraine, anxiety, insomnia, etc. It also relieves the stress and makes one feel light and happy with a balanced mental and emotional stage. One such destination for such massages in Chiang Rai is the Arisara Thai massage parlour.
The staff is very professional and friendly. A variety of massages are available with prices little above the charges of the small massage parlours, but the service is worth the money spent.
Time: 10:00 AM – 10:00 PM
Location: Phahonyothin Road, Chiang Rai
Cost: Starts from 300 THB per hour    
An offbeat experience of nightlife in Chiang Rai
A visit to Chiang Rai would be in Vain without experiencing some of the unique experiences it has to offer.
11. A Night with the Akha Hill Tribe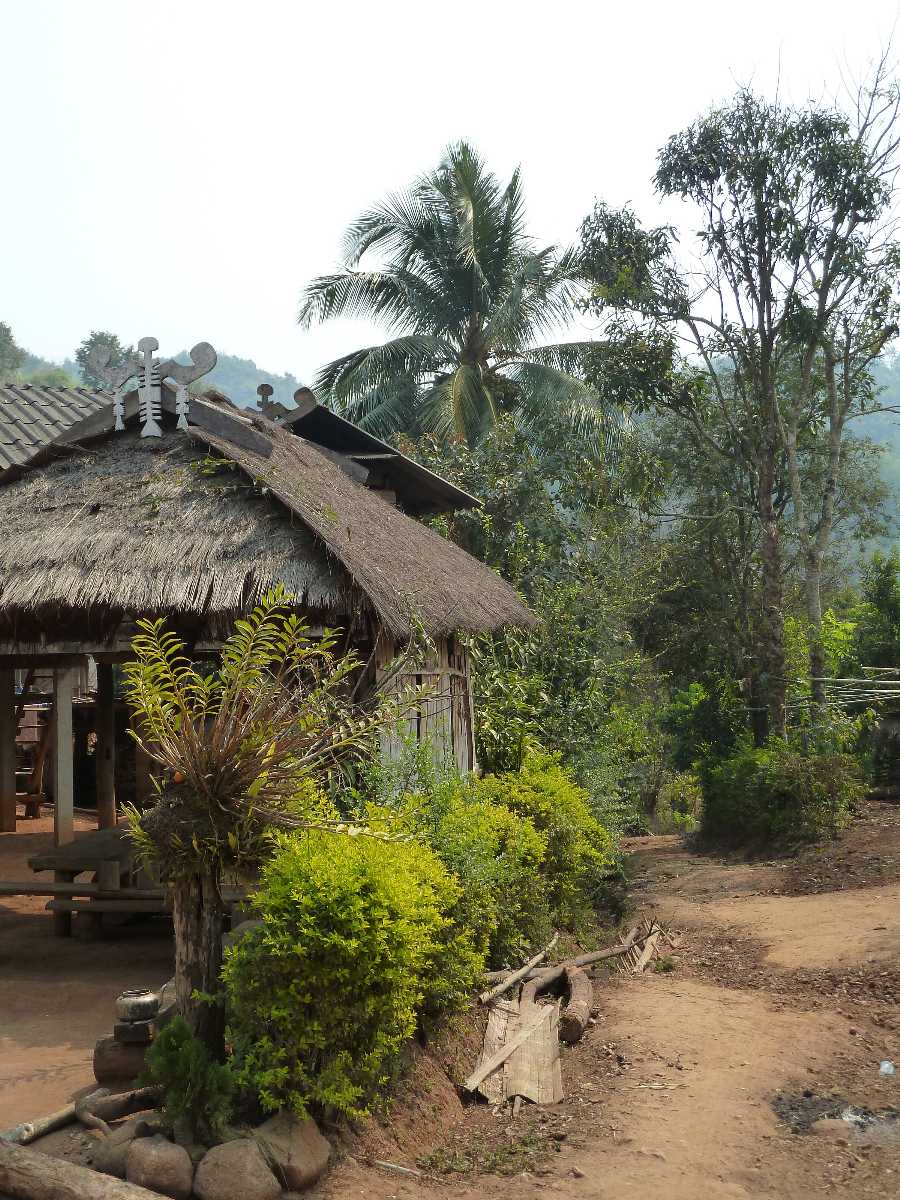 The hill enclosed town of Chiang Rai is home to the immigrant South Chinese hill tribal people who dwell in the nearby forest area. They live in mud and straw houses and lead a simple life. Visits can be made to their ethnic village where one can spend the day roaming around in their tribal society. At night get along with the families, have the local tribal dinner and learn about their lifestyle, occupation, culture and history. Local guides are recommended who can translate the language of the Akha people.
Location: Baan Huay Kee Lek, Longneck Karen and many more
How to reach: A Local auto can take you to these villages
In spite of the slow, sleepy nature of the town, the nightlife in Chiang Rai will never disappoint. Though it does demand some planning in advance at a few places, overall the experience will be one to remember.