Its that time of the year when the temperature rises, skin darkens, nights get longer and the days constitute of sweltering heat: summer. And as summer is back at it again, hitting 38 degrees and 40 degrees; its time to resort to the beaches and the waterparks. Since the beaches are just too warm during summers in the Emirates, waterparks are perhaps the only saviour.
And what could be better than the United Arab Emirate's premier and the largest waterpark in the Middle East
Dreamland Aqua Park opened for the visitors on June 12, 1997, and since then it has been one of the leading waterparks in the region.

Timings of Dreamland Aqua Park
The park is open the entire year from 10 AM - 6 PM, However, the timings change during the month of Ramadan, and the park is open for a longer period on Fridays.
Ticket Price Of Dreamland Aqua Park
The admission ticket is AED 160, for children and senior citizens (65+) is AED 100. There is also a family pass for an entire day which costs AED 450.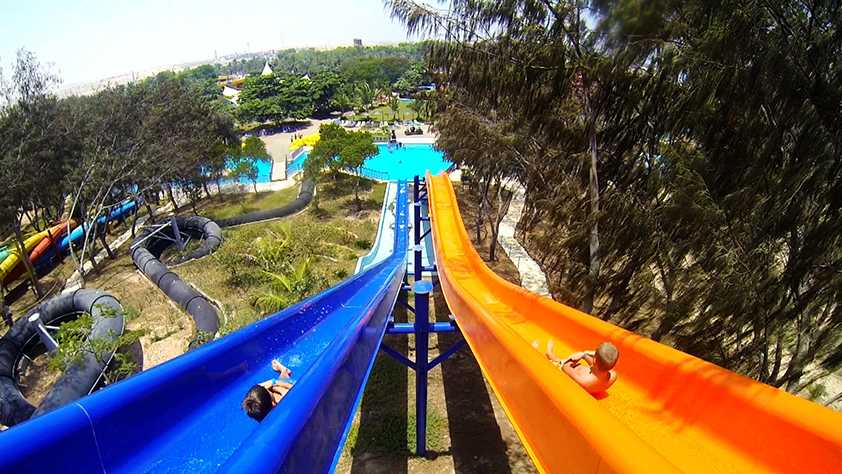 Where To Stay?
There are plenty of hotels and resorts near Umm Al Quwain, like Hotel Royal Residence, Pearl Beach Hotel, UAQ Beach Hotel and Barracuda Beach Resort are all within 10 miles of the park!
There are also tents and cabanas which are arranged by the park allowing you to experience a two-day indulgent stay inside the park. Both of them provide you comfort and promise you an enjoyable time. It gives you a two days access to the waterpark, the camping gear, BBQ dinner, breakfast and lunch, access to the tennis court, a chance to night-swim and a refreshing bonfire.
For tents, the bookings are available from November to April every year. At the rate of about AED 550- AED 1,070. Cabanas are another means of stay and are extremely popular. Since for AED 700- AED 1150, you get to feel like a true camper and have a comfortable stay.
Click here to book hotels near Dreamland Aqua Park!
Availability Of Costumes
The shops like 'Blue Waves Shop' or 'Mini Shop' offer swimsuits for all ages and sizes. So if you've forgotten your swimsuits, they've got you covered. Literally and metaphorically! Footwear, souvenirs, toys, and clothing would be available as well. There are strict rules to be followed while choosing an attire for swimwear. Offensive, provocative and revealing swimwear should be avoided, and modest swimwear and dress should be worn at all times. Pants, cutoff shorts, denim or cotton wear, are not allowed on the rides.

Where To Eat?
Their indoor restaurant offers Continental and Mediterranean cuisine, customized to satisfy the different preferences. Every weekend Continental Buffet is also served. Snack attack is a section specially designed for kids and their likings towards snacks, so expect all the junk and fun food to be right here! In the Arabian Majlis, do not forget to try their Shisha. There is also a pool bar which is located right beside the pool in the middle of the park and offers all sorts of cocktails, beers and other refreshments.
Rides In Dreamland Aqua Park
In this water park, there are plenty of rides guaranteed to make your summer days way more fun and tolerable. However, most of these rides do not offer a lot of thrills, since this was one of the first water parks in the region. So, most of the rides are family friendly than hardcore adventurous. (Note: Most of the rides require a minimum height of 1.2 m).
Rides like 'Black Hole', 'Twisting Dragons' and 'Slide Five' are going to quench your thirst for thrill rides while, 'Family Raft Ride', 'Twister' and 'Kamikaze' are the favourites of families. While you are here, be sure to visit the largest open Jacuzzi and largest wave pool in the region. There is also the 'Dead Sea', which like the name suggests has so much of saline content that it is perhaps impossible for one to drown.
Some Other Exciting Things To Do
There are a lot of other things one can do, besides enjoying the attractions. There is a pool bar, lush green gardens and also a mini zoo, which is situated near the locker rooms, where one can see their favourite animals and take pictures with them.
Another great way to enjoy time with your family and friends is by challenging them to a friendly match in their tennis courts, volleyball courts, and basketball courts. Prior booking is recommended, and rental charges might be applicable for some sports. There is also an Amphitheatre which is reminiscent of the Roman era. It can accommodate 1500 people and is perfect for parties and concerts or even for relaxing after the swim.
If, however, you wish to take your relaxation to the next level, then the park gives yet another option for it. There are wooden Cabanas which are ideal for small groups, families, or just for a 'me time'. It is truly a paradise complete with airbeds, sun lounges, camping chairs and tables in a private camping area. Day use rental is approximately AED 350, and prior booking is required. Whenever you get tired, lounge in your private cabanas and take a blissful nap, and when you are refreshed go ahead and enjoy the rides again.
There is also a VIP lounge, which is primarily for party lovers and is located near the pool bar. Each lounge is fully furnished and also comes with a dedicated butler at your service. There is an in-house DJ every weekend and welcome drinks and appetisers. For just AED 750, you can enjoy a private and luxurious setting in the heart of the park.

Where to Book the Tickets?
There are no official sites, for one to book their tickets since the tickets would always be available in plenty at the counters. There are, however, various sites and tour operators that give you offers.
How To Reach?
The park is also pretty accessible from all the other emirates. It is around 40-50 minutes drive from Dubai, Sharjah, Ajman and Ras Al Khaimah; it takes 1 hour to two hours from Abu Dhabi and Fujairah. From the main city of Umm Al Quwain, the Dreamland Aqua Water Park is approximately eight kilometres.
Address
Al Raas St, Next to Barracuda Beach Resort, Umm Al Quwain 655, UAE
Contact Number
+97167681888
Email ID
[email protected]