Anyone who knows anything about
Rajasthan
,
India
knows that it is a colourful state of temples, museums and forts. After living in this country forever (26 years), across 9 cities, and visiting 14 states, I thought I know what all is there to see on my trip to 15th.

With that thought on my mind, I called my sister up and told that we are heading out to Udaipur in 4 days. After roaming around the beautiful narrow streets, huge palaces, ancient Havelis and serene lakes, we had one extra day before coming back to Delhi. A series of conversations with our hotel receptionist made us book a cab to Kumbhalgarh - a fort within 100 kilometers of our vicinity.
The early morning call from the cab driver made us jump in our pajamas. After a sumptuous breakfast on the way, we headed to this larger than life structure that was home to a king in 19th century.
Magnificent, Marvelous, Splendid and Glorious, all these adjectives come to life when you visit this castle. Here is how it looks: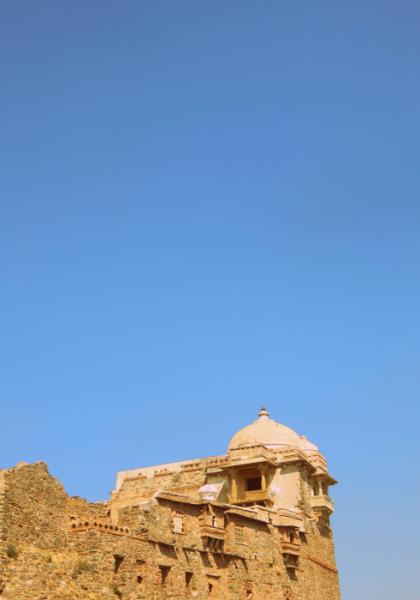 Interesting facts I got to know:
It is the 2

nd

longest wall in the world, after, of course, the Great Wall of China.
Apart from the fort, there are hundreds (yes 100s) of temples inside the campus. You may want to consider staying overnight at one of the resorts nearby if you plan on visiting all of those. Spending some time in an isolated village around an ancient fort would be an experience in itself.
The entry ticket is just INR10.
It is one of the world Heritage sites.
How to reach: The best way is to take the road from one of the nearby towns. We hired a private cab from Udaipur at INR2,500 (to and fro), left at 6:00AM, and reached (in 2 hours) this massive fort to be explored slowly and steadily. For cab bookings, if you don't have any direct contact, ask where you are staying. They would surely be able to help.
Where to eat: There is a place called 'Harmony Garden' on the way back to Udaipur. It is usually visited by foreigners, but I would highly recommend it for Indians as well. It is a treat for your taste buds if you are really hungry. There is an Indian (with a Rajasthani touch) buffet spread out which means you can eat as much as you want at just INR 300 per person. Doesn't sound too bad, does it? I seem to have a couple of pictures from there:
Rajasthan never fails to surprise, this one just made the journey much more memorable. To be honest, the expectations were quite low, but it turned out to be one of the coolest places I have been to. Also, it was the 1st trip me and my sister took (just the 2 of us) which made it even more special.
This entry has been shortlisted for Holidify's Travelogue Writing Contest in association with Linger. The content and pictures may not be used without prior permission of the author.
Submitted by: Swati Saxena
The original post can be found here.