With water bluer than the bluest lapis lazuli, trees greener than the greenest emerald and beaches whiter than the whitest pearl, the Islands in
Mauritius
are indubitably the sparkling gems in the crown of the vast and mighty
India
n Ocean. With an area of just 2000 kms and a population of 1.2 million, Mauritius is one of the few places left in the world where you can truly experience nature in the way it was meant to be. The Republic of Mauritius comprises of four Islands - The Mauritius Island, The Rodrigues Island, The Agalega Islands, and the St. Brandon Islands, of which only the first two are tourist-friendly. While Mauritius Island is the most developed and the hotspot for tourists from across the globe, the other islands have their unique charm and attractions that make visiting them worth your time and money.
Read on to get a good understanding of what the Islands in Mauritius has to offer:
1. The Mauritius Island

Of all the islands in Mauritius, this is the poster boy of The Republic of Mauritius, the manifestation of Mauritius' Wealth and fame acquired over the years. Home to the nation's capital - Port Louis and the Sir Seewoosagur Ramgoolam International Airport, this island in Mauritius is where you'll put your first step on Mauritian soil.
In the South-Eastern part of the Island, you can witness colourful canoes called pirogues being raced and manoeuvred skillfully in Pointe Canon by competitors assembling from across the island. Shop to your heart's content in the market of Mahebourg and sink your teeth in the luscious local fruits being sold. Drive a rented car beside the ocean along the picturesque hairpin bend of Baie du Cap road which is considered by many as one of the best diving destinations in the world. Those who've always watched in awe surfers taming the waves of the ocean on television can try their hand at this sport at the Rivière des Galets. Collect myriad coloured shells left behind by the eternal waves at the Gris Gris beach.

Must Visit Places In Mauritius Island:
Robert-Edward Hart Museum:
If you've ever wanted to live in a house built up of Lego, you can take one step closer to seeing it in person by paying a visit to the Robert-Edward Hart Museum which is built entirely out of coral. The museum operates between 8:00 AM and 4:00 PM on all days except Sunday.
Blue Bay Marine Park
: Children might be amused by exploring the glass-bottom boat here that allows them to get up-close with a wide range of fish such as the Parrot-fish, Trumpetfish and Barracudas!
National History Museum:
Those with a fascination for ancient things might choose to visit this place which hosts a formidable collection of artefacts ranging from old maps to pirate swords to shipwrecks!
Bustling markets of Rose Hill and Quatre Bornes:
Coming inland, shopping pros might choose to bargain here. Get some of the locally produced textiles at nominal rates owing to the stiff competition. Who knows how much people will envy your Mauritian Dress at the next party?
Do pay a visit to the 155 metres long
Cavendish Bridge
- the longest on the island of Mauritius that offers stunning visuals of the Lion Mountain. Be sure to snap amazing pictures to preserve these views forever!
La Rhumerie de Chamarel:
Those who appreciate fine spirits can find their fancy at the rum factory at La Rhumerie de Chamarel which distils rum from its sugarcane in majestic copper vats. What's more, you can taste these and purchase them on the spot if you please!
Mahatma Gandhi Institute and the Ganga Talao:
If you find yourself reminiscing India, head over to the Mahatma Gandhi Institute which documents the influx of Indians in the nation - one of the largest ethnic groups in Mauritius. For something more spiritual, go to Ganga Talao, a renowned pilgrimage site for Hindus.
Mauritius' Capital - Port Louis offers a multitude of attractions covering the past as well as the present. There are several museums such as the Natural History Museum, the Mauritius Postal Museum, the Blue Penny Museum and the Museum of photography, housing something suiting everyone's taste. Take your kids to the Rajiv Gandhi Centre where young children can engage themselves in several enriching and fun-filled scientific activities and exhibits. Head over to Chinatown for some authentic Chinese food and cultural activities. Rest assured, you can find something exciting happening at every corner in this city full of buzz.

Those looking for some adventures might want to visit the Eastern Part of the Island which houses Mauritius' hallowed beaches and luxurious hotels and might be some of the most tourist-friendly amongst all the islands in Mauritius.
2. The Rodrigues Island

If you thought Mauritius was small, wait till you see this tiny colourful landmass nestled between the turquoise waters. One of the smaller islands in Mauritius, about 14 Rodrigues Islands can find space inside Mauritius, that's how minuscule it is. However, don't let its size mislead you into dismissing its credibility. It won't be inappropriate to say that Rodrigues is a playground for the adventurous ones amongst us. With an abundance of coral reefs in every hue imaginable, scuba diver aficionados are in for a treat. Those with a fascination for windsurfing, kitesurfing, sailing and fishing won't be disappointed either. Ample opportunities exist for all!
For those of us who prefer to stay clear of anything that involves getting wet, may we recommend catching some fish on this island? With fish sizes varying greatly between catches, who knows what you might return with from your fishing expedition! Many call Rodrigues Mauritius before it got swamped with tourists. With just 40000 people inhabiting the island, the pace of life is slow and soothing. Pay a visit to catch up with life and build some lovely memories with the people that matter - friends and family.
How To Reach Rodrigues Island?
The Mauritius Trochetia, a passenger-cum-cargo boat operates between Mauritius and Rodrigues on a bimonthly basis. This journey may take anywhere between 36 and 48 hours subject to the conditions of the waters. Alternatively, you may choose to fly to Rodrigues via Air Mauritius? daily flights between the two islands which reduce the travel time to a paltry 90 minutes!
3. The Agalega and St. Brandon Islands

These islands in Mauritius are sparsely populated and hard to reach. The ferry to Agalega operates just twice a year and there's not much on the other side that you can't find in Mauritius and Rodrigues. These islands are raw and untouched - Man's attempts at unchecked urbanization are yet to reach here.
An organisation by the name of Mauritius Attractions offers a unique 8-day fishing trip aboard a private luxury catamaran to the St. Brandon Islands. The water surrounding these virgin islands boasts of some of the most beautiful fish you'll find on this side of the globe. Once aboard the immaculate 50 feet Catamaran, you'll undertake a 36 hours sailing voyage before reaching the islands, where nature in its most pristine form awaits you. Snorkel among sharks, turtles and other big fish, and explore the spotless white sand flats and broken coral islands. You can also find turtles nesting on these islands - a once in a lifetime opportunity. This is a trip for those who know their Marlin from their Sailfish. And rightly so, because this eight-day trip can cost upwards of MURs. 8,00,000 depending on the number of travellers!
4. Ile Aux Aigrettes Nature Reserve

Ile Aux Aigrettes is a 26-hectare nature reserve 800 meters towards the south-east off the coast of Mahebourg bay and has gained popularity over the years as an ecotourism destination. Unlike Mauritius, most of which was formed by volcanic rocks. You might also find of interest the Giant Tortoises and Pink Pigeons at the Ile aux Aigrettes Nature reserve which has been restored to its original state after a whopping 30-year conservation effort by the Mauritian Wildlife Foundation.
Ile Aux Aigrettes was primarily formed from coral limestone and it is pretty low-lying. It has a scientific research station which works towards the preservation of the numerous rare and endangered plant and animal species.
5. Troux Aux Cerfs

Being a natural geographical volcanic outcrop, the island of Mauritius is home to more than just beaches and lagoons. This island in Mauritius boasts of a vast variety of unique natural topography including caves, waterfalls, and even volcanic craters! While Mauritius is renowned all over the world for being a tropical beach tourist destination, the entire island is not beaches and coastal land. Curepipe, one of the most famous residential cities in Mauritius is built on one of the island's highest plateaus, and it is the only place in Mauritius where you can stand and look down into the crater of a volcano that used to be active till even recent times.
6. Le Morne Brabant

Mauritius' south-western tip is where the famous peninsular island of Le Morne Brabant can be found. It is distinguished by its basaltic monolith scaling up to 556 metres above the sea level and it itself covers an area of 30 acres of the peninsula. The bluish-green lagoon surrounding the peninsula from all directions and the water tempering playfully with the stretches of white sandy beaches clustered with palm trees makes it an attractive tourist location. The beaches are divided into two separate parts. The northern part is devoted for swimmers and those who prefer chilling out in the beach while enjoying the view of the azure waters; the southern part is water sports lovers who are fond of windsurfing and kite surfing. During dry seasons, the peninsula transforms into a relatively arid atmosphere, making it ideal for adventure activities like hiking and trekking along the mountainside.
7. Le Souffleur

Major South coast islands in Mauritius, including Le Souffleur, were formed centuries ago by waves breaking against the cliffs. The hidden treasure of Mauritius, and definitely worth the visit is Le Souffleur, which was created when the rough sea crashed against hot lava rocks. So natural springs is a common sight here. The water is always rough as if nature is trying to send a powerful message. Despite this, there's tranquillity all over the island.
The island is the best spot for people who love adventure because Le Souffleur packs a punch. The island's half-formed grotto-like structure has a natural geyser fountain which spouts water up to 20m high, just like a whale sprays out water from its blowhole. This is a sight you wouldn't want to miss.
8. Ile des Deux Cocos

If you are planning on dedicating a day to some secluded relaxation without compromising with the comfort and luxurious dimensions of your vacation, Ile Des Deux Cocos, or as it means the 'Island of Coconuts', couldn't fit your description more aptly. This haven of tranquillity lies amidst the Blue Bay Marine Park located on the South-East coast of Mauritius. With dramatic views of the ocean, to de-stressing under the shade of the palm trees while enjoying the calm breeze, Ile Des Deux Cocos has everything one could desire for in a deserted private island.
9. Ile Plate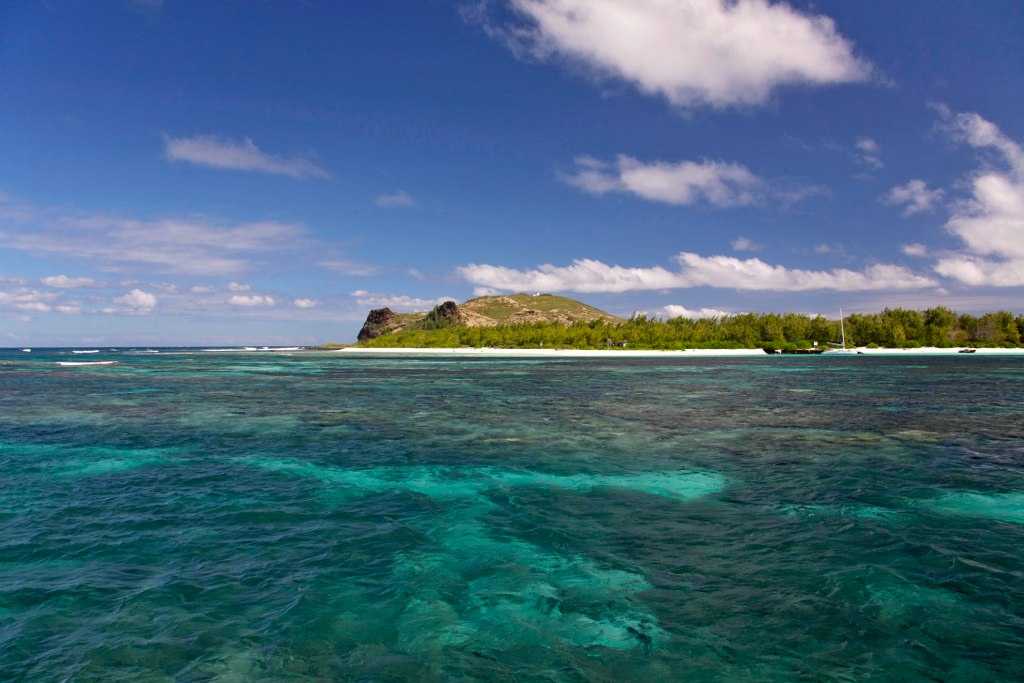 Le Plate is not only a favourite getaway for nature lovers but also a haven for adventure enthusiasts. Water activities like diving and snorkelling are immensely popular among tourists and locals. The diving site situated at the Pigeon Rock is known as the "Shark Pit" where you can swim around with the sharks. The reason behind the sharks being accumulated at this point is the high current waves crashing up against the cliffs of Pigeon Rock. Keep in mind that the sea is rough and you can access the diving site after 20 to 45 minutes of a boat ride. You have to arrange all the diving needs in advance, and it is recommended that only experienced divers should undertake this activity.
10. Ile aux Chats and Hermitage Island

Known for being the colony of Noddies birds, this Mauritius Island is a nature reserve. Ile aux Chats is famous as 'Cat Island' among the tourists for its snorkelling and diving sites, surrounded by the coral reefs. The calm water of the lagoon is home to abundant marine life with colourful sea creatures.
Right next to the Ile aux Chats towards the southwestern side of Port Sud-Est village is the Hermitage Island. It is reputed for a widespread belief that there is a treasure buried in the island. Hence it is one of the most visited places in Rodrigues. If you are looking for a treasure hunt experience, Hermitage Island is the place!
11. Ile du Phare

Also known by the name of Ile aux Fouquets, this island in Mauritius is indeed one of the first islets to be discovered by the Dutch back in 1598. It is situated towards the southeastern corner of Mauritius and is closest to the Vacoas Island. It is also reputed as one of the national parks of the island nation. This rocky island sits between the calm sea towards the side of the lagoon and the high sea, which can be discovered on walking across the island. It is right beside the Ile aux Vacoas and Ile de la Passe and is the second island of the chain. In comparison to the other islands, Ile du Phare is relatively hilly. A ruined lighthouse sits on its topmost point, from which the island derives its name.
12. Ilot Sancho

If you've ever wondered what it would be like to be on an island devoid of food water and much to do then Ilot Sancho is your go to. It is a perfect fit for people wanting to explore living off the grid and testing their own capacities. This is what makes it so special. It is also an incredible spot for a no-nonsense picnic or a romantic date with your special one. Ilot Sancho, just like the other islands, is filled with greenery and is traversable by foot. It's connectivity to the mainland depends on the time of the day. During low tides, one can walk from the mainland to Ilot Sancho quite comfortably.
13. Ile De La Passe

Apart from being another beautiful islet, Ile de la passe is filled to the brim with history. The islet was discovered and owned by the French until the British tried to invade it. The island has played a very central role in the battle between the two roughly equal forces. Other than the usual spots found on an islet, Ile de passe hosts a wide range of activities and things to see for a history fanatics. The graffiti wall with the names of the soldiers engraved on it is a must go to.
14. Ile Ronde

Ile Ronde is a beautiful islet situated north of Mauritius. It was classified as a Nature Reserve in the 1950s and is administered by the National Parks and Conservation Services and Mauritian Wildlife Foundation in conjunction. It is home to a large number of rare reptiles such as the Round island Gecko, Round Island Boa and rare plants like the bottle palm.
15. Gabriel Island

Beautiful beach. Tick. Good food. Tick. Sunny blue skies. Tick. Gabriel island ticks all the boxes and how so! Situated in the North of Mauritius, Gabriel island is one of the most enchanting beaches you will stumble upon. A few companies like the Mauritius Catamaran offer luxury rides to the island. Once there, the island is filled with massage services, sun beds and the like. The island also boasts wonderful water sports, for anyone interested.
16. Pointe Bernache

Unlike the mountainous and rocky terrain found on the other islands, Pointe Bernache comes as a surprise. It is a relatively small and gorgeous island swanked with tall pine trees all around. Owing to the less footfall it receives, it is much quieter and calmer, making it the ideal spot for getting some sun! It lies close to Ile d'Ambre and can be visited via Pointe Bernache or from the villages of Grand Gaube or Poudre d'Or. You could also ask your hotel to arrange for a bbq lunch and drinks under the trees, making your trip to this island more memorable and delicious!
17. Gunner's Quoin

Gunner's Quoin is a very unique little islet located 8 kilometres north of Mauritius. Unfortunately, it is not open to the public but continues to be a must visit island in Mauritius. The water near this island is remarkably clear and the best choice for snorkelling, underwater diving and other water activities. A few companies offer catamaran rides to this island where you could spend a day lazing around, enjoying music and lovely rum native to Mauritius. The island also boasts a wonderful marine life where sightings of whales are quite common.
18. Ile D'Ambre

Ile d'Ambre is one of the largest islands of Mauritius. The island has a ton of fun activities to offer such as beautiful picnic spots , lagoons, well-maintained Nature Walks and ample places to kayak in. Although the island does not have any permanents residents it still houses the older abandoned settlements which make for a great adventure tour. The famous lagoons in Ile d'Amber are surrounded by varied vegetation adding to the natural beauty of this place. The Mangrove forests are also a must visit.
19. Serpent Island

The serpent island is a small island north of Mauritius. It was once famous for being home to a large variety of snake but they have become extinct since the European invasion. This island in Mauritius is another great spot for diving.
20. Ile Aux Flamants

Ile aux Flamants is a small protected islet near Mauritius. This island is a must visit for people interested in a quick getaway. The lush green palm trees set against sparkling blue water is a sight to behold. Tourists often like to laze around this island on their luxurious catamarans.
So there you go, while we congratulate you for reaching so far in this post, we are sorry and at the same time excited to inform you that this selection of tourist attractions amounts to just scratching the surface of what the islands in Mauritius have to offer. It's bewildering to think of the amount of mesmerizing experiences that await you on this tiny island nation.
We wish you a safe and memorable trip!